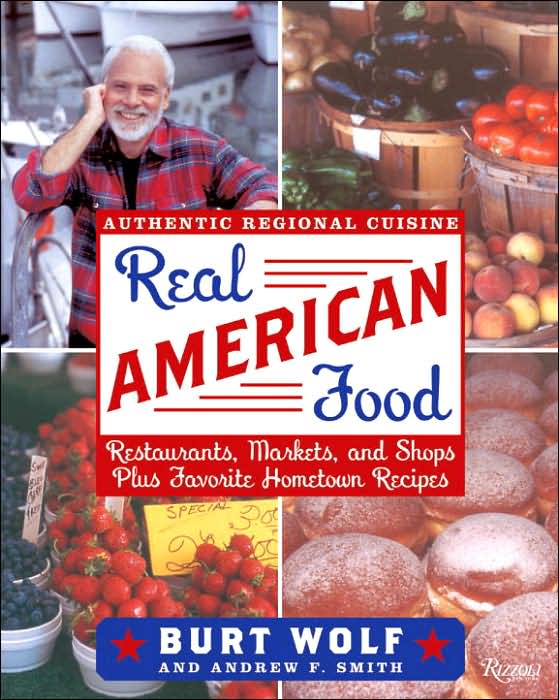 A recent release that I missed, but should be noted is Burt Wolf's
Real American Food: A Culinary Tour of the United States
. A food authority seen often on PBS, his book is described here, from
Jessica's Biscuit
:
"
Real American Food
draws from Burt Wolf's lifetime of experiences traveling the country producing programming for PBS. Packed with fascinating trivia and history, this book defines the distinctive contributions of key regions to American cuisine. Readers will come away knowing exactly what characteristic foods to look for the next time they travel to one of these regions, exactly which stores and restaurants offer the best version of these items, and how to cook these specialties once they return home. Filled with more than seventy generational recipes,
Real American Food
is organized by culinary region, each with its distinct identity, such as traditional Jewish food in New York, New England-style seafood in Boston, Eastern European-influenced meals in Chicago, upscale Southern cooking in Charleston, Cajun in New Orleans, Latin-influenced fish dishes in Miami, and organic Nouvelle Cuisine in San Francisco. Sidebars focus on regional star chefs, restaurants, food shops and markets, techniques, tools, ethnicities, produce, and farmers. This collection of local tried and true recipes, fun-filled facts, and charming anecdotes is the perfect addition to the armchair traveler or home cook's library."
Real American Food: A Culinary Tour of the United States
by Wolf, Burt
Hardcover - 272 pages
Published: July 2006
ISBN: 0847827925
Rizzoli
It is available online from
Jessica's Biscuit
and
Barnes and Noble
.