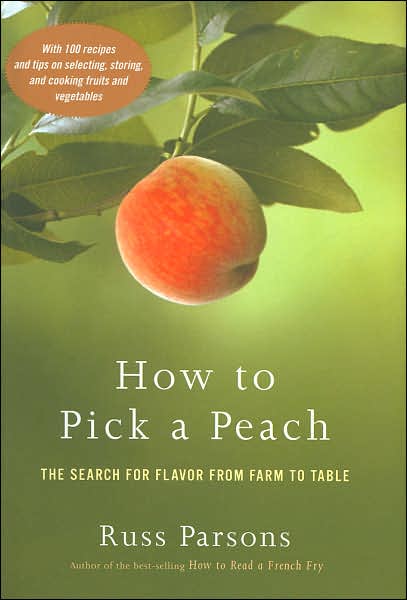 It's sadly obvious when I go to the local Pathmark for basic household goods and see people shopping the "fresh" produce, that most consumers don't care or don't know what fresh, wholesome, and ripe produce should look and feel like. Most of the blame, is on the supermarket for selling fruit and vegetables that should not have made it to market in the first place -- and then charging top dollar for it. Produce Pete doesn't know his produce. Often, for just a few pennies more, a shopper can find much better produce at a Whole Foods or Trader Joe's, or even better, a greenmarket or local farmer. And then maybe, they're going to use that poor excuse for produce for mulch and not consumption.
Just published, "
How to Pick a Peach: The Search for Flavor from Farm to Table
", by Russ Parsons, is a guide to food selection. From
Jessica's Biscuit
, a synopsis:
" Critics greeted Russ Parsons' first book,
How to Read a French Fry
, with raves. The New York Times praised it for its "affable voice and intellectual clarity"; Julia Child lauded it for its "deep factual information."
Now in
How to Pick a Peach
, Parsons takes on one of the hottest food topics today. Good cooking starts with the right ingredients, and nowhere is that more true than with produce. Should we refrigerate that peach? How do we cook that artichoke? And what are those different varieties of pears? Most of us aren't sure.
Parsons helps the cook sort through the produce in the market by illuminating the issues surrounding it, revealing intriguing facts about vegetables and fruits in individual profiles about them, and providing instructions on how to choose, store, and prepare these items. Whether explaining why basil, citrus, tomatoes, and potatoes should never be refrigerated, describing how Dutch farmers revolutionized the tomato business in America, exploring organic farming and its effect on flavor, or giving tips on how to recognize a ripe melon,
How to Pick a Peach
is Parsons at his peak."
How to Pick a Peach: The Search for Flavor from Farm to Table
by Russ Parsons
Hardcover - 416 pages
Published: April 2007
ISBN: 0618463488
Houghton Mifflin, Inc.
The book is available online from
Jessica's Biscuit
and
Barnes and Noble
.