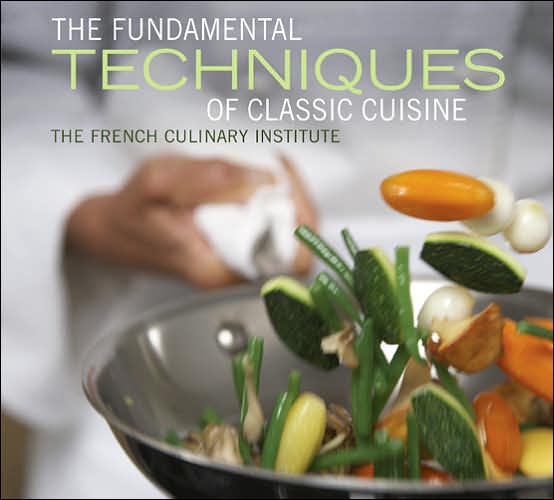 Ah...,
The French Culinary Institute
in New York City -- since 1984 it has become a destination for aspiring professionals as well as anyone wanting to hone home cooking skills, at a price. The restaurant, L'Ecole, where students serve in every capacity of a functioning eatery, can be sublime to disastrous (I've eaten there several times). Now, finally, a book has been published,
The Fundamental Techniques of Classic Cuisine
, which I hope is a bit more polished than the service at their restaurant.
From
Jessica's Biscuit
:
"In 1984, Dorothy Cann Hamilton founded The French Culinary Institute with a singular vision: She wanted to create a culinary school that combined classic French techniques with American inventiveness in a fast-paced curriculum.
Now, for the first time ever, all the best that the FCI has to offer can be found in a single sumptuous volume.
The Fundamental Techniques of Classic Cuisine
presents the six- and nine-month courses taught at the FCI that cover all 250 basic techniques of French cooking. Along with more than 650 full-color photographs, the book features more than 200 classic recipes as well as new recipes developed by some of the school's most famous graduates. Complete with insider tips and invaluable advice from the FCI, this will be an indispensable addition to the library of serious home cooks everywhere."
***
The Fundamental Techniques of Classic Cuisine
by French Culinary Institute and Judith Choate
Hardcover - 496 pages
August 2007
ISBN: 158479478X
Stewart Tabori & Chang
Available online at
Jessica's Biscuit
and
Barnes and Noble
.