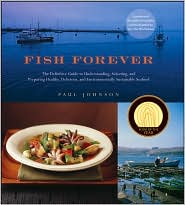 In case you haven't heard what the 2008 IACP Cookbook of the Year is, it is
Fish Forever: The Definitive Guide to Understanding, Selecting, and Preparing Healthy, Delicious, and Environmentally Sustainable Seafood
, by Paul Johnson.
From
Jessica's Biscuit
:
"From a star fishmonger, a unique cookbook and guide to healthful, eco-friendly seafood.
Few people know more about fish than Paul Johnson, whose Monterey Fish Market in San Francisco supplies seafood to some of the nation's most celebrated chefs, from Alice Waters, Thomas Keller, and Michael Mina to Todd English, Daniel Boulud, and Alain Ducasse. Now, Johnson at last shares his peerless seafood expertise. Written for people who love seafood but worry about the overfishing of certain species as well as mercury and other contaminants,
Fish Forever
pinpoints today's least-endangered, least-contaminated, best-tasting fish and shellfish species. Johnson provides in-depth guidance on 70 different fish along with 96 stylish international recipes that highlight the outstanding culinary qualities of each. In addition to teaching readers about sustainable fishing practices, Johnson will be donating a portion of his royalties to Save Our Wild Salmon, an organization that works to restore wild salmon runs. Complete with over 60 beautiful color photographs, how-to tips, and fascinating sidebars,
Fish Forever
is a must-have kitchen resource for seafood lovers everywhere.
Paul Johnson (Berkeley, CA) is the owner of the Monterey Fish Market, which he founded in 1979. A former chef, he is the coauthor of T
he California Seafood Cookbook
and serves on the advisory board of the Monterey Bay Aquarium's Seafood Watch Program."
Good choice.
Fish Forever: The Definitive Guide to Understanding, Selecting, and Preparing Healthy, Delicious, and Environmentally Sustainable Seafood
Author: Paul Johnson
HC: 416 Pages
Publisher: Willow Creek
Pub. Date: Jun 21, 2007
Photos: Color and Black and White Photographs
ISBN-10:076458779X
ISBN-13:9780764587795
Available online at
Jessica's Biscuit
and
Barnes and Noble
.